School snacks are nothing to be laughed at. Kids look forward to them all day to enjoy and moms work to plan the perfect one for their kids and friends as they come over after a long day of learning. What are some of the 'go-to' choices for you and your little ones? Peanut butter and apples? Hummus and veggie sticks? Cookies and milk? Cheesy cracker snacks?
What if I told you that there was something that is changing the landscape of school snacking? That you can feel good about giving them to your kids and the neighbor kids, too. What if you could still get all the "junk food" taste you crave AND the nutrition you've been searching for? Well, search no further, friend. The Tiger is in the house.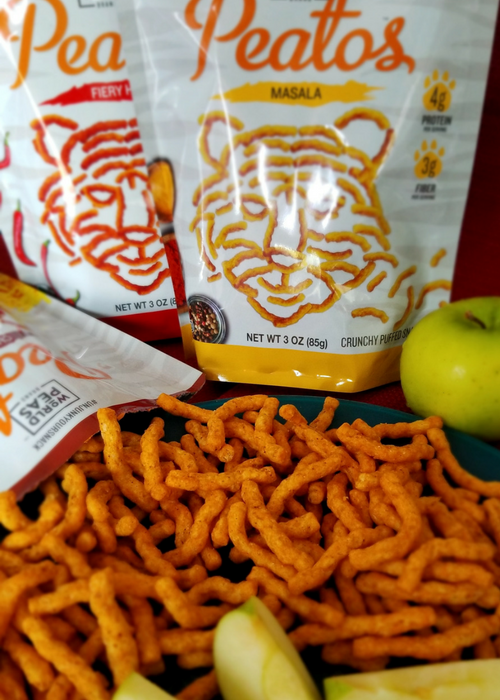 Peatos pulse snacks provide twice the protein and three times the fiber of others on the market … and the taste? I ate the whole bag of Masala (yea, the whole bag) ones before I even got home from the grocery store. They are just delicious. So I start thinking… I can use these in all sorts of ways for the kids this year when they get back to school.
Some ideas for using this busy Back to School season:
Pair them with some sliced green apples
Add them into a fun lunch for a healthy side option
Top a salad or soup with them instead of croutons and crackers
Peatos are made with out of sustainable peas and lentils, have no artificial flavors or colors, non-gmo, no msg and are gluten free. As their bag says, 'Great Taste. More Substance. No Compromise.' My kids love them, my husband loves them and so do I… and they are good for you.
This back to school season, stock your pantry with Peatos. You'll pretty much be the coolest mom on the block. Be sure to grab all four flavors, too. Masala, Chili Cheese, Fiery Hot and Classic Cheese.