Want to throw a Halloween party for your kids? Something scary, but not toooo scary? We boo! We boo!
We knew just who to ask for tips on creating the perfect kid-friendly Halloween party. Nicole Tomlinson is the founder of Operation Halloween, Las Vegas' first-ever family-friendly, indoor Halloween experience. (Live nearby? Or visiting Vegas? Don't miss it! Operation Halloween is 7,500-square feet of family-friendly fun at Tivoli Village, running through Oct. 31!)
Nicole certainly didn't disappoint, offering up seven tips to creating the most memorable of Halloween parties for our little boos and ghouls. So turn up the Monster Mash, and let's get started!

1. Keep it hands-on.
Kids have a need to touch, to feel, and to experience everything around them. That can be especially fun at Halloween when you can fill items like cauldrons, jars, bins, flower pots -- and even cardboard boxes! -- with surprise Halloween goodies ranging from squishy gelatin to candy and plastic eyeballs.

2. Hold contests!
It's okay to have a little competition at your party, especially when everyone walks away a winner. How? Add some winner flair for activities, like:
Costume contest for the scariest, funniest, and most unique costumes (need ideas for costumes for kids? Check out our Pinterest page!);
Team sport: pumpkin decorating.
Mummy wrapping (teams of 2-3 get toilet paper to wrap around a teammate. Set a timer and see who beats the clock!)
Prizes? Pumpkins of course!

3. Offer themed beverages.
A themed beverage should have three main qualities:
Seasonally-appropriate flavors (think pumpkin- or candy-flavored, for instance);
Coordinating cups or beverage holder (you can buy them already made or create a custom look);
A unique, funny, or punny name to bring it all together.
The crazier the better when it comes to Halloween drinks! Need ideas? Try this Spooky Ghost Shake or this Halloween drink made with Nerds and candy eyeballs -- and complete with super cute Peep straws! -- from A Girl and a Glue Gun.)

4. DIY photo booth.
Setting up a photo booth is easy and gives kids the chance to act goofy and create fun pictures together. Along with a camera, of course, here's what you'll need to set up your own:
A backdrop. All you need is a dark sheet or cloth and a little creativity! Or even a big pumpkin and a Halloween-themed sign ... it can be as simple or as elaborate as you like!
Props. Set a bin next to the photo area with Halloween-style props for people to include in their photos. Check your local dollar store for inexpensive, fun ideas.
An adult. You'll want to have an adult stationed near the photo booth to take photos and assist kids with props.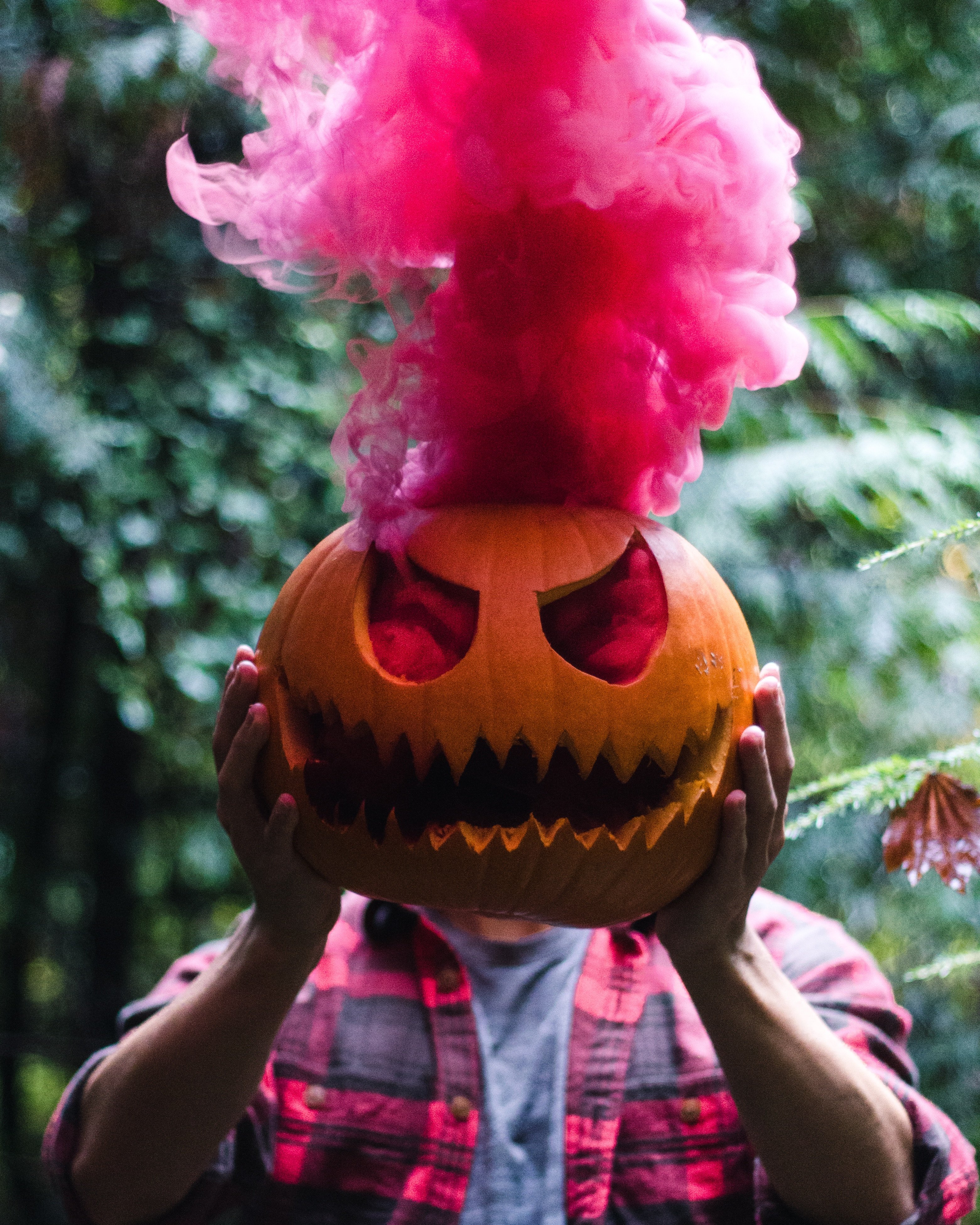 5. Smoke effects!
Creating a truly unique experience means thinking about how you will touch all five senses for your guests. For a spooky impact, include a smoke machine or dry ice (bonus: kids will think you are so cool!). Dry ice can be used several ways and you don't have to have a ton of it for it to look amazing.
Ideas: Fill a jack-o-lantern with dry ice and then pour water over it (or go for the more traditional bubbling cauldron!)
Don't know where to find dry ice? Call your local grocery store to see if they have it available. Note that you'll want to purchase it as close to the event as possible, as it doesn't have a long shelf life. Also note that dry ice needs to be handled with caution. Don't touch it with your bare hands and keep it out of reach of kids!

6. Surprise appearances!
Get a friend or parent to dress up as a recognizable Halloween character (such as Jack Skellington or the Wicked Witch) and show up as a surprise.
Have them stay in character and interact with the kids. It's also a perfect photo opportunity and a way to make your party unforgettable!

7. Know what's next!
Have a plan for fun! Entertain your guests no matter their age or interests with everything from a spooky scavenger hunt, a crafting table where you can decorate your own pumpkin, or even an outdoor Halloween movie!
With a little planning and thought, you and your kids can have a Halloween party to remember -- and that is no trick.
Looking for more Halloween inspiration? Check out our 13 ideas for family costumes!
🌸🌸🌸🌸🌸
Find your family fun® with Macaroni Kid! Subscribe today to your FREE local edition for details on all your local kid-friendly events!