There are so many great playgrounds and parks all over the United States! We asked our almost 600 Macaroni Kid publishers from around the country for their recommendations. Here are 13 of their favorites:
Northeast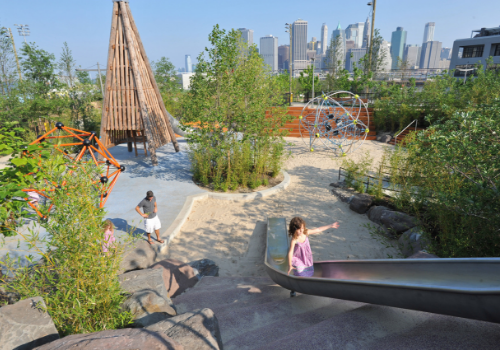 Photo by Julienne Schaer
Brooklyn Bridge Park
Brooklyn, N.Y.
This 85-acre sustainable park, located on Brooklyn's East River shoreline overlooking Manhattan, stretches more than a mile and is divided into 11 sections, each of which features unique topographies, plantings, amenities, and cultural artifacts and installations. Your whole family will love exploring the playgrounds, water features, a dog run, a beach, a historic carousel, a fishing station, a promenade, and much more.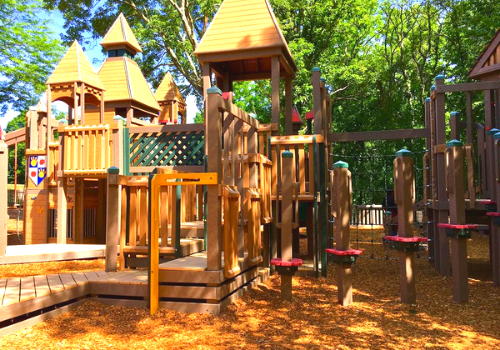 Picture courtesy of Macaroni Kid Lowell, Mass.
Castle in the Trees
Littleton, Mass.
Castle in the Trees includes large unique structures that are perfect for hours of play. There are also little touches that make this park stand out, like a double see-saw, several life-size xylophones, and tables for playing chess or checkers. Have younger kids? A second play area, called Aidan's Playground, is on the same site and intended for kids ages 2 to 5. Castle in the Trees is also in a great location if you're traveling through Massachusetts. It's located just off of Route 495 -- a perfect place to stop and let the kids play.
Recommended by Barbara Evangelista, publisher of Macaroni Kid Lowell, Mass.
Midwest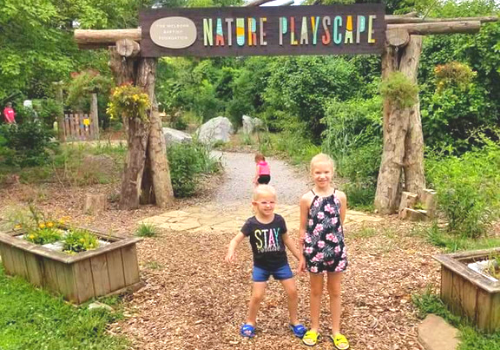 Photo by Jo Beth Bootz
Nature PlayScape at Wesselman Woods
Evansville, Ind.
Nature PlayScape at Wesselman Woods was the largest nature playscape of its kind when it opened in 2018. Its mission is to support unstructured play -- kids can explore, get dirty, create, and learn in the outdoors. They can problem-solve and develop ideas using the wonderful world of nature as their teacher. It's a new experience every time a child visits!
Recommended by Jo Beth Bootz, publisher of Macaroni Kid Evansville, Ind.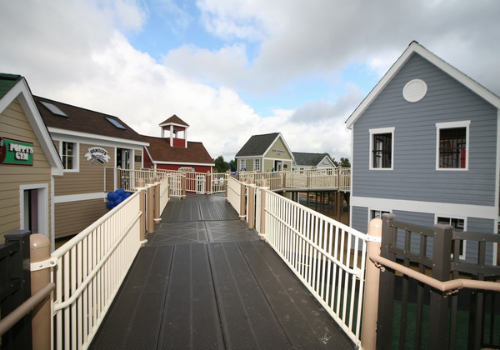 Photo courtesy of Preston's H.O.P.E.
Preston's H.O.P.E.
Beachwood, Ohio
The inspiration for Preston's H.O.P.E. came from a little boy born with Spinal Muscular Atrophy who died just before his 12th birthday. Supporters raised about $3 million to construct the 60,000 square foot playground, designed for children with all levels of abilities and disabilities.
Kids love the Imagination Village, which includes make-believe houses that are connected by a raised walkway, plus a theater and sand area. There are also play areas with swings, tunnels, and slides -- a truly thoughtful playground designed for all.
Recommended by Jenny Steadman, publisher of Macaroni Kid Cleveland East, Ohio
South

Photo by Jourdan Card
Clemyjontri Park
McLean, Va.
Clemyjontri Park is another playground where children of all abilities can play side-by-side. Kids who are in wheelchairs, use walkers or braces, or who have sensory or developmental disabilities can play here!
One of the most recent additions is a Liberty Swing, the first of its kind in Virginia. It allows kids in wheelchairs to swing -- not just rock, but to fully swing! What a joy to watch. Clemyjontri Park also is home to a carousel and trackless train.
Recommended by Jourdan Card, publisher of Macaroni Kid Centreville - South Riding, Va.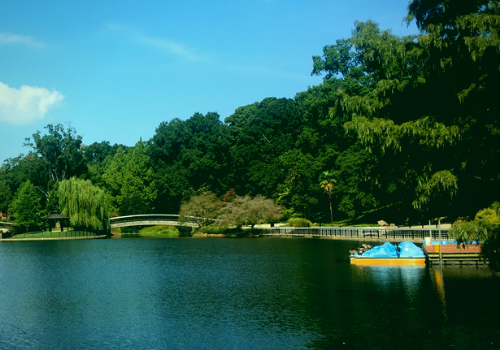 Photo courtesy of Macaroni Kid Downtown-Midtown-North Raleigh
Pullen Park
Raleigh, N.C.
Pullen Park, a 66-acre park in Raleigh, N.C., has been in use since 1887. In 2011, the park underwent an extensive renovation but kept its charm and main attractions, including a train, carousel, and paddle boats. Along with those rides, there is also a large playground, cafe, picnic shelters, and walking trails to explore. The park also hosts several fun events throughout the year like a summer concert series.
Recommended by Nicki Medford, publisher of Macaroni Kid Downtown-Midtown-North Raleigh, N.C.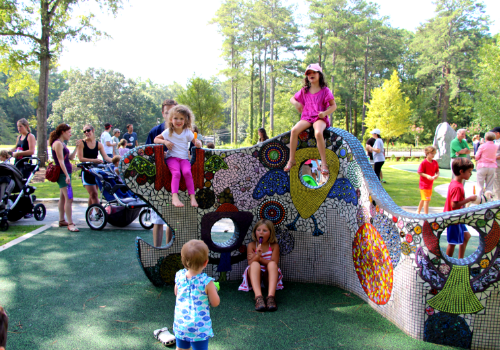 Photo courtesy of City of Sandy Springs
Abernathy Greenway Park
Sandy Springs, Ga.
Abernathy Greenway Park is a unique play area full of "playable art," in the form of interactive (and climbable!) sculptures, like the whimsey wall (above), a mosaic of kiln-dried glass on a concrete and steel frame invites children to explore texture, stimulate curiosity, and inspire interaction. Even the swings are visually interesting and designed by an artist.
Recommended by Diana Friedman Cole, publisher of Sandy Springs-Dunwoody, Ga.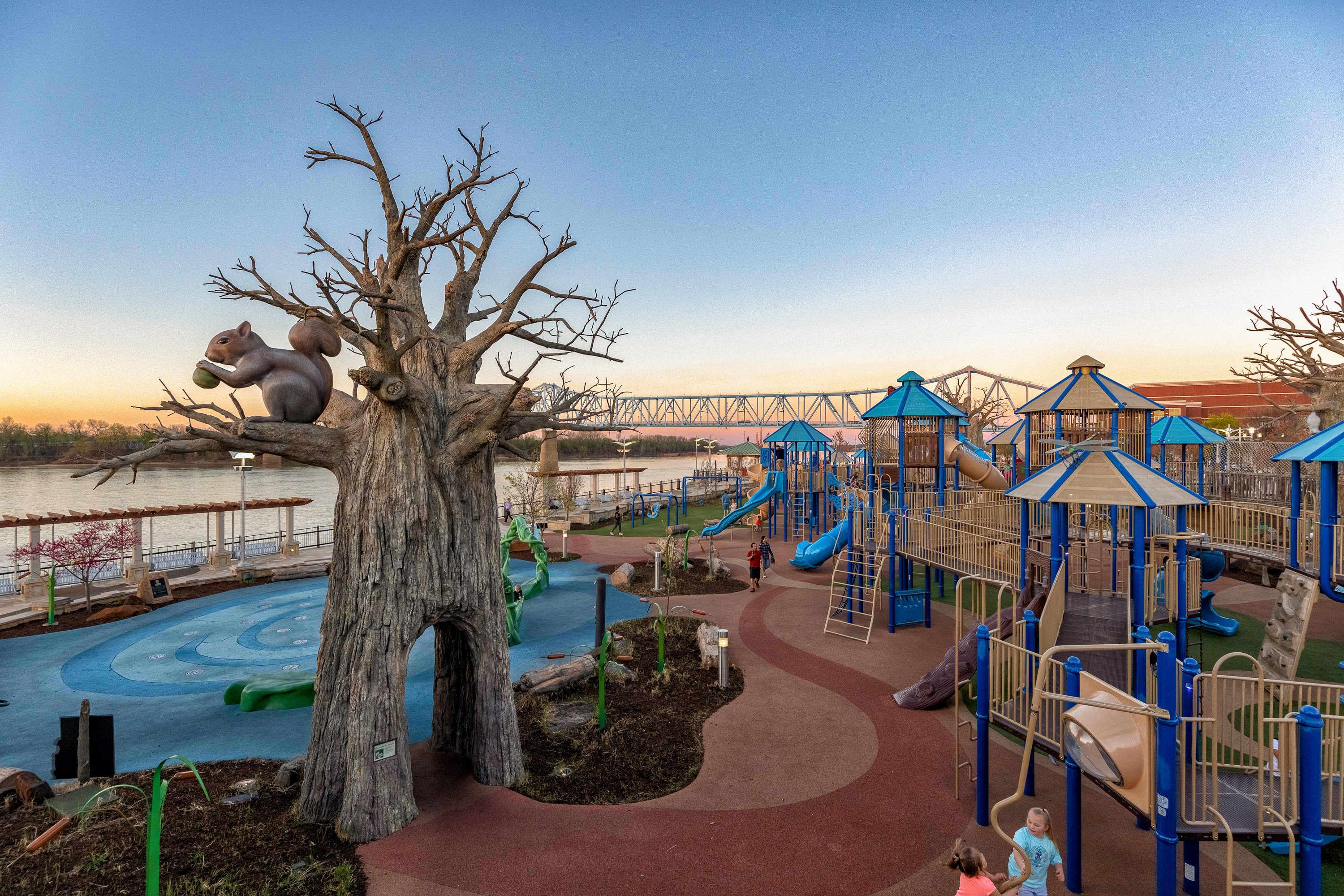 Photo by AP Imagery
Smothers Park
Owensboro, Ky.
Smothers Park, renovated and expanded as part of a multi-million dollar riverfront upgrade, was recognized in 2015 as the top playground in the world by Landscape Architect's Network. Along with the Lazy Dayz Playground, you'll find a waterfall, spray park, and three fountains perfect for hot summer days. The site takes advantage of its beautiful waterfront location with swinging metal benches where visitors can relax and enjoy the views of the Ohio River.
Recommended by Jennifer Ball, publisher of Macaroni Kid Owensboro-Henderson-Madisonville, Ky.
West

Photo courtesy of the City of Irvine
Orange County Great Park
Irvine, Calif.
The humbly named Great Park in Irvine, Calif., is a sprawling open space on 1,300 acres that includes everything from athletic fields and walking trails, to playgrounds and a carousel. You'll even find a new ice arena and a hot air balloon! As a nod to the rich agricultural history here, you'll also find a farmer's market and a Farm + Food Lab -- an interactive outdoor classroom for all ages. Kids can also take part in a full array of camps here, ranging from chess to soccer.
Recommended by Annie Young, publisher of Macaroni Kid Santa Ana, Calif.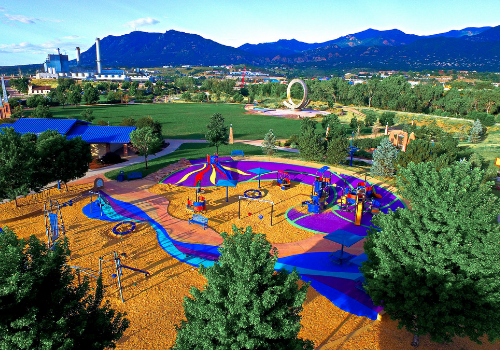 Photo courtesy of City of Colorado Springs
America the Beautiful Park
Colorado Springs, Colo.
The America the Beautiful Park Fantasy Playground opened in 2005 and includes hammocks, spinner bowls, and turntables, along with interactive pieces of art created with the help of local students. These pieces, called "Quirks" are designed for kids to use their imagination to play! Along with the one-of-a-kind playground, kids can splash in the beautiful Julie Penrose Fountain, a sculpture that represents the life-giving movement of water between the atmosphere and the earth.
Recommended by Kyrie Collins, publisher of Macaroni Kid Highlands Ranch, Colo.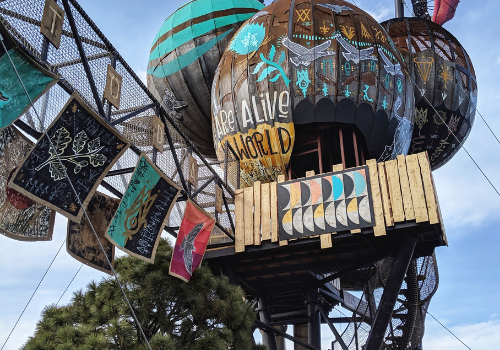 Photo courtesy of Children's Museum of Denver at Marsico Campus
Adventure Forest
Denver, Colo.
This is the newest playground on our list! It just opened June 3 at the Children's Museum of Denver at Marsico Campus. The fully immersive art installation is a 500-foot long outdoor aerial course. Kiddos will love exploring the bright, bold, enormous structure, which includes various climbing routes, rope swings, a glass and log bridge, 70-foot slides and a tippy top 360-degree lookout. We can't wait to go!
Recommended by Sarah Hauge, publisher of Macaroni Kid Englewood, Colo.
🌸🌸🌸
Looking for summer fun with your kids? Make sure to check out your local Macaroni Kid calendar. Subscribe to your local edition today to find a free calendar of events for your area!