There are so many ways to make popcorn to get your popcorn fix. There's basic popcorn with butter, of course, but that can be so booorrriing.
Instead, my family likes to experiment with flavorings or mix in a sweet treat. You can buy all kinds of pre-made seasonings and popcorn flavors, but I've found that it's super easy to make up our own! Just open up your spice cabinet and you'll find everything you need.
Yummy popcorn seasonings
Here are some great DIY flavor combo ideas to turn boring popcorn into a can't-miss treat. Simply mix together, then sprinkle on your popcorn:
Garlic Cheese: Parmesan cheese and garlic powder
Pizza Pop: garlic powder, salt, oregano, and Parmesan cheese
Dill: garlic powder, onion powder, salt, ground mustard, and dill (fresh if you have it)
Taco Pop: taco seasoning (purchased or your favorite homemade), cumin and cilantro (fresh if you have it)
Snickerdoodle: cinnamon and sugar
Ranch: ranch dressing mix (purchased or homemade)
Chili Cheese: chili powder, cumin, paprika, and Parmesan cheese (add some cayenne powder of you want an extra kick)
Italian: Italian seasoning mix (packaged or homemade)
French Onion: French onion soup/dip mix
I purposely didn't put any quantities of spices -- add flavorings until it tastes right to you! Personally, I tend to wing it, adding a little of this and a little of that until I find the flavor I am looking for.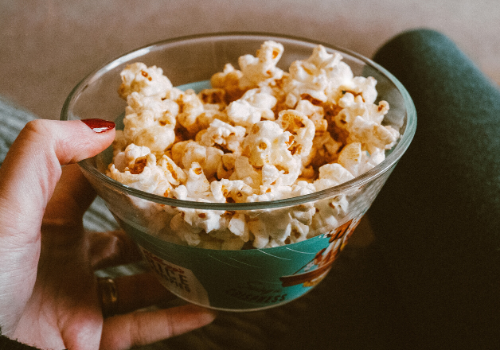 Yummy popcorn mix-ins
Here's where you can get creative and make some sweet and salty mixes. My favorite as a kid when we went to the drive-in was salty popcorn and sweet chocolate. You can add as many of these mix-ins as you want in order to come up with a one-of-a-kind family treat:
Pretzels
M&Ms
Mini marshmallows
Coconut shavings
Chex cereal
Chocolate (or butterscotch) chips
Nuts
Sunflower seeds
Graham cracker pieces (Just break them apart into pieces, or add Teddy Grahams)
Heath baking bits
Caramel baking bits
Mini peanut butter cups
Animal crackers
Sprinkles
Yummy popcorn topping
One of our favorite toppings for popcorn is melted marshmallows.
Directions:
Melt 2 cups of marshmallows with a 1/4 cup of butter and mix till smooth, then pour over about 4 cups of popped popcorn. If you want to add some color and fruit flavor to the marshmallow, add 2 tablespoons of Jell-O mix to the melted marshmallows.
The marshmallows make it easy to form the popcorn into balls or bars!
Popcorn is so versatile and is an inexpensive snack that is fun for the whole family to experiment with. Take a pop at jazzing up your popcorn on your family's next movie night!
Valarie Fisher is the publisher of Macaroni Kid Roseville-Rocklin-Lincoln, Calif.