We were looking for creative ideas on how to celebrate this holiday season with our families, given how different the holidays will be this year compared to any other. We knew just who to ask: Our friends at Shindigz! Shep and Wendy Moyle have owned Shindigz for more than 30 years. With three kids of their own, they have planned bazillions of celebrations — with loved ones when they're both near, and when they're far.
---



Wendy and Shep Moyle.
If you've never checked out Shindigz, you have to give it a look! You'll find 20,000 items to help you celebrate!




---
The Moyles know firsthand how difficult this past year has been for families — they planned two virtual graduations for their own children in the spring. We knew they were the perfect family to ask about creative ways to celebrate this holiday season — ways to make it both memorable and fun — for those we love near and far.
Here are three of their ideas for celebrating a full and happy holiday season ... even if things are a bit different in 2020:
---

1. Be with your loved ones, even if you can't be there in person
It's unfortunate that not everyone can get together in person this year for the holidays. But you can still make those far away feel less alone! Shindigz photo cutouts — from 18 inches to 9 feet tall! — make a fun and memorable keepsake that allows you to "be" with your loved ones — even if it's from afar. Photo cutouts can cheer up a room in a nursing home, be seated around a dining room table, or set up for the annual holiday photo. No matter what fun your recipient has with your photo cutouts, it's sure to bring a smile to their face, like it did for Wendy's parents, pictured above.
Offer good through Dec. 31, 2020.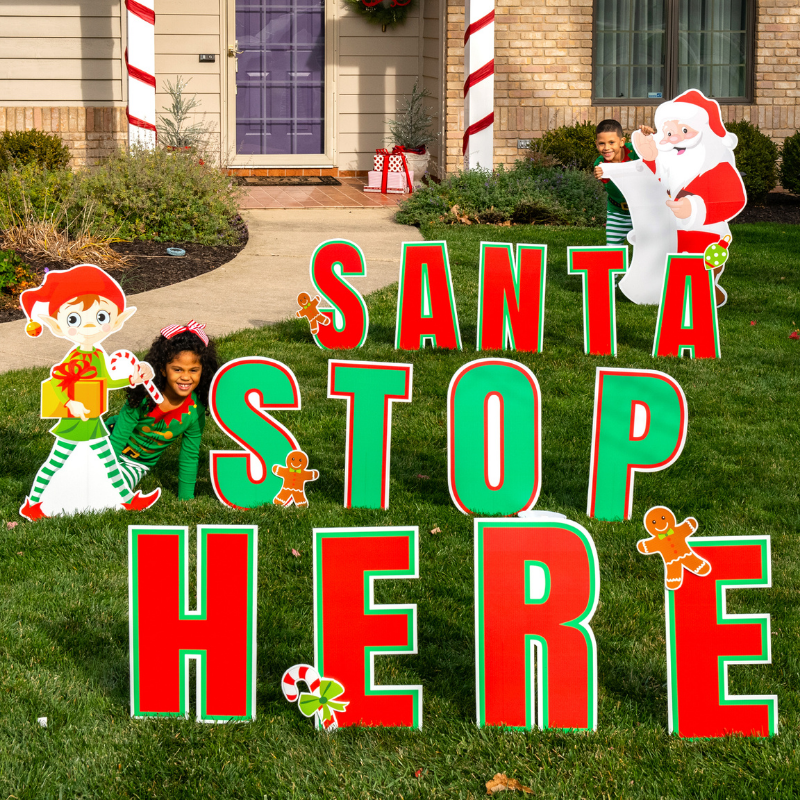 2. Find "signs" of Christmas everywhere!
Shindigz has so many fun and festive new yard signs! We love them all — set them up for passersby in time for a Christmas parade of cars or to get a "best decorated" award from your neighborhood association. Your yard will be a photo op for neighborhood families who want cute pictures of their kids with your yard signs! Plus they're both portable and reusable so you can spread holiday cheer year after year.
---
3. Still get those sweet Santa pics!
One of the toughest things for many kids — and their parents who count on the cute pictures each year — is that sitting on Santa's lap is likely out in 2020. But don't despair! Your kiddo can still send letters to Santa with this fun Shindigz mailbox, sure to be a family-favorite holiday decoration for years to come. Another idea? Invest in a Santa costume and dress up an immediate family member for one-of-a-kind memorable photos that you'll always have a story about. Going that route? Check out Santa's throne -- it will truly set the scene for the perfect Santa photo op. Find even more fun ideas in Santa's Workshop on the Shindigz website.
---
Ready to shop? We know we are! Shindigz is making it extra easy for Macaroni Kid readers to make these holidays extra bright by offering an exclusive discount! Simply enter code MACKID15 to automatically save 15% at checkout! The offer is good through Dec. 31, 2020.