Dear Jenny,
I have two girls and we have hair bows — LOTS of hair bows, and headbands, hair clips, rubber bands, and more! The problem is, we can never find what we want, when we need it. This can truly upend our morning in our mad dash to get out the door. How can I organize to ensure every day is a good hair day?
Signed,
All Tangled Up
Dear Tangled Mom,
Organizing hair supplies will make your morning routine so much easier! Best of all, the benefits of this type of organizing go well beyond saving time. We perform at our best when we feel we look our best. It pays off to make "getting to our best" an easy process.
Where: Start by identifying a designated hair styling station in a convenient location in your home. We suggest setting this up in a downstairs bathroom, in a kitchen drawer, or even in a mudroom near where you exit the house in the morning.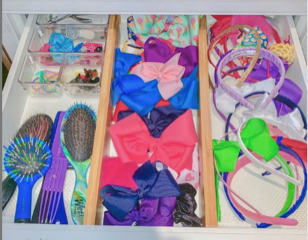 What: Next, consider everything you need to get hair done. This is what you'll be storing in your hair styling station. Think not only hair accessories, but brushes, combs, water spray bottles, hair spray, and other hair products. The idea is to have everything you need in one space.
Who: The best-laid plans won't sustain you in your hairstyling efforts if they can't be maintained. Consider your family. Create a realistic system, not just for you, but for everyone who might use your hair styling station. You want to make it something easy for everyone to access and easy for everyone to keep in order.
How: To help you get started on your system, I'll share three of Getting It Done Organizing's favorite tips and tricks for organizing hair supplies:
1. Hang a long ribbon from a door or wall and attach bows to this ribbon. You can purchase a decorative one online or make your own by simply using your favorite colored ribbon.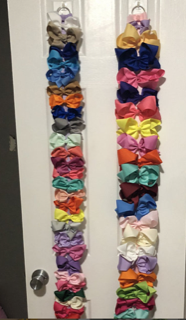 2. One big catch-all drawer is NOT user friendly. Use drawer dividers and drawer inserts to separate your hair styling items in different categories like barrettes, hair bands, styling tools, and more.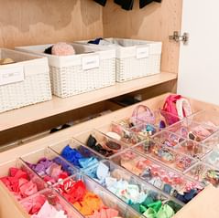 Photo Credit: Life in Jeneral
3. If your styling station is in a bathroom, think about taking advantage of all the space you have under the sink. There you can use stackable acrylic drawers, a lazy Susan to ensure nothing gets lost, and even an adhesive-applied acrylic slot to store items like brushes and combs to capitalize on cabinet door space.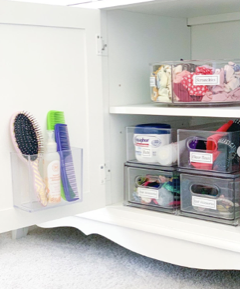 Photo Credit: Prim Space Home Organizing
Investing some time upfront on thoughtful organizing will pay off daily in your morning routine. With all the big bows, headbands, hair clips, and functional hair products stored where you can easily access them, you can eliminate the hair drama and make an on-time and well-coifed dash for the door.
Good luck!
Jenny
Jenny Dietsch, the owner of Getting it Done Organizing, is a Certified Professional Organizer who believes order and beauty in the home bring peace and contentment. She and her team are committed to creating functional and aesthetically pleasing systems for their clients and their families. Follow her on social media for daily inspiration:
🌸🌸🌸