Looking for an easy and delicious breakfast or brunch recipe for Easter Sunday with items you probably have on hand?
We love this casserole because you can add all of your favorite ingredients (or what you have on hand) to the basic recipe.
Not sure what other ingredients to add?
Don't worry, we compiled a list of scrumptious ideas for you, as everyone probably has different items available to them.
We make this the night before so that we can have it ready to go into the oven the next morning. Easy peasy.
Happy Easter!
Ingredients:
3 large croissants or 6 small, torn into pieces (you can also use leftover rolls or bread, just add a little butter to them)
5 eggs
1 1/4 cup of your favorite shredded cheese (we used Monterey Jack)
1 cup half and half
1/2 cup chopped chives or green onions
Directions:
Spray an 8- or 9-inch baking dish or large cast iron skillet with cooking spray.
Layer torn croissants and shredded cheese in the dish.
In a large bowl, whisk half and half, chives, and eggs. Salt and pepper to taste.
Pour egg mixture over croissants and cheese, making sure to press down on any pieces to moisten through.
Cover and refrigerate overnight.
In the morning, heat oven to 325°F. Bake covered with foil for 30 minutes. Uncover and bake another 25 to 30 minutes longer or until a knife inserted in center comes out clean. Let stand 10 minutes before serving.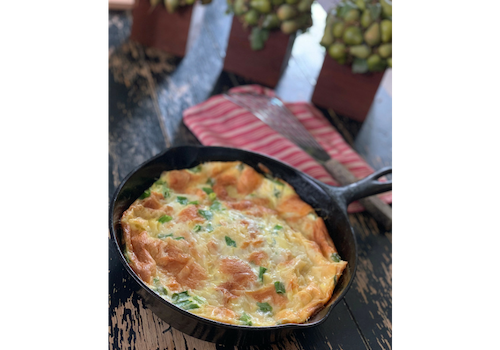 Add or substitute some of these other ingredient combinations to make it your favorite:
Shredded cheddar cheese, 1 cup of chopped cooked bacon, and 1/2 cup chopped green onions.
Shredded Swiss cheese and 1 cup of diced ham.
Shredded mozzarella, 1 cup of cooked and crumbled sausage, 1/2 cup diced tomatoes.
Cubed cream cheese, 1/2 cup chopped smoked salmon, 2 tablespoons capers, 1/4 cup finely chopped red onion.
Shredded taco cheese, 1 cup cooked ground beef, 1/2 cup diced tomatoes, handful chopped cilantro.
Shredded cheddar cheese, 1 cup cooked ground beef, 1/2 cup diced pickles, 1/4 cup finely chopped red onion, handful of torn basil.
This story originally appeared in Macaroni Kid EATS! Find more family-friendly recipes on Macaroni Kid EATS!