My kids are older now, in their teens actually, but my "friends" and I will continue to bring a little shenanigans and fun to every holiday - whether its the Leprechaun, Santa, Frosty, Elf, Cupid, or the Bunny - they all leave evidence that they were here.
This was much more magical when they were littles, but no matter how old my kids get, or how unimpressed they may act in the days leading up to the holiday, you can bet they still look for each of these little things - every time - with smiles on their faces.
Here are some very bunny shenanigans you can try this Easter with your little - or big kids this year.
1. Dying Easter Eggs
No store-bought fancy stuff here - just good ole food coloring, vinegar, and crayons! Want to try and dye them naturally? Check out this recipe to learn how to make your own natural dyes with food!
2. Plant Jelly Beans
The night before Easter, plant jelly beans outside and come morning, with a little bunny magic, lollipops have grown in their place! You can get fancy ones like these Easter themed lollipops, or just use what you have on hand. One year we even had the neighborhood kids plant their own and the next morning it was fun to see them stop by and "pick" their lollipops.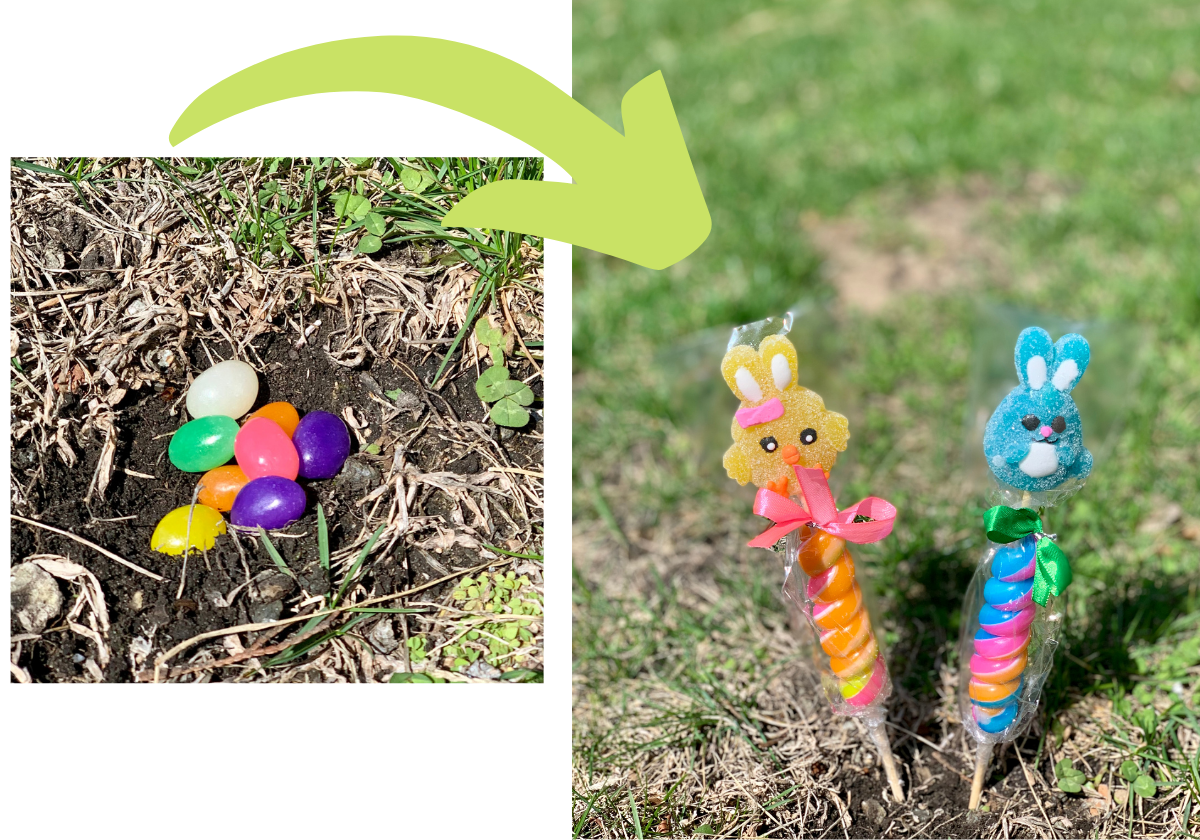 3. Bunny Mess
That messy bunny always leaves a trail of Easter grass as evidence of everywhere it hopped while hiding the baskets and eggs. And of course it leaves some on the bedroom doorknobs and in the kids rooms when he looks in to make sure they are sleeping and their rooms are clean. (See what we did there?) Don't be surprised if you find a piece of that grass in December - I kid you not, you will probably find some when you bust out the tinsel!
4. Bunny Poop
You may also find a few piles of Easter grass with a small mound of black jelly bean poop. Cause you know, when a bunny's gotta go ... a bunny's gotta go.
Funny story: When my daughter 2 years old she ate some and her older brother looked at her in horror! It was hilarious. "She ate the bunny poop!"
To this day, the black jelly beans are still her favorite.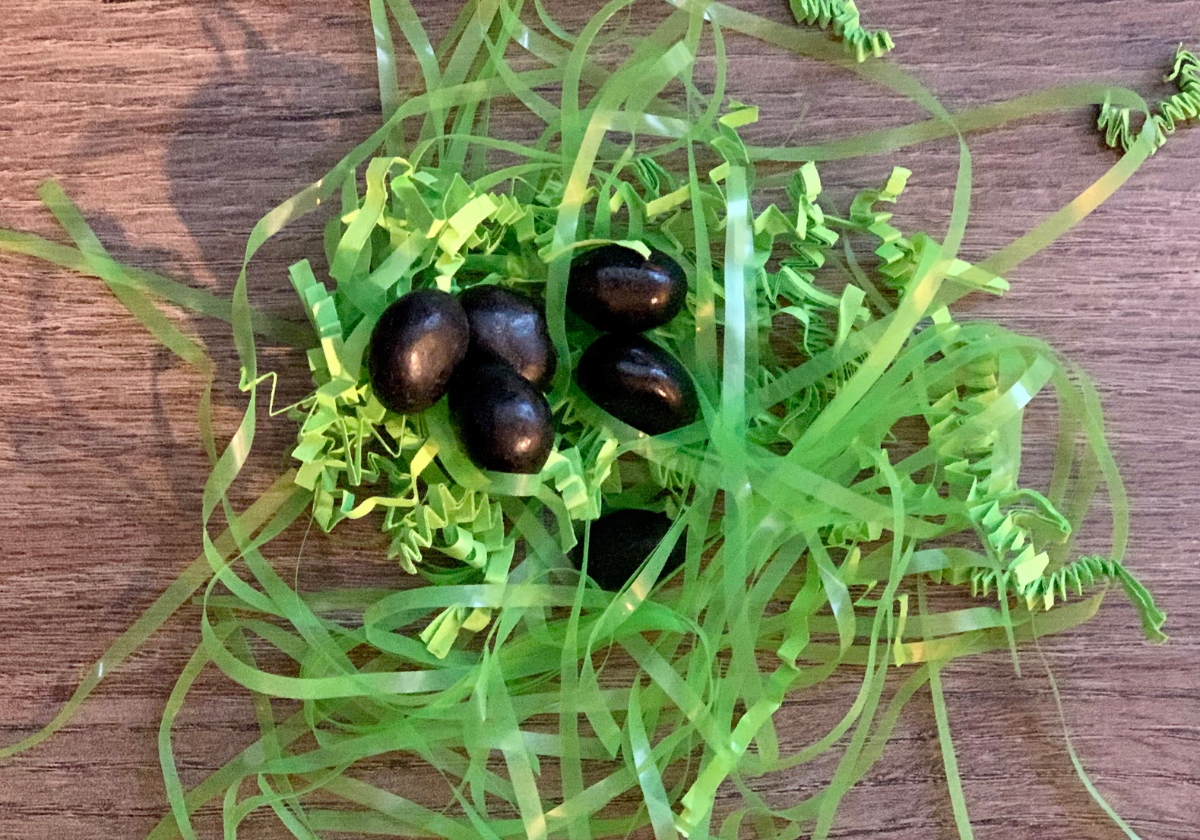 5. Baby Stuffed Animals
You know the ones you have stored away and you just can't seem to get rid of? Somehow that bunny finds them, along with a few of the kids' childhood spring-themed books. He places them all over the living room in little scenes for reading or hanging out.
It's heartwarming to see how they remember their old pals.
6. Hidden Baskets
Yep, that bunny hides them. Every.Single.Year. Even my husband's. Even the dog's. And you know what? You can bet when my kids come home when they are older, they will STILL have to look for their baskets. You know who is the sore loser though? Somehow the bunny hides Mom's extra hard and I actually take the longest to find mine. They sure get a kick out of that one.
7. Special Easter Surprise
Every holiday our kitchen table is decorated and themed out. On Easter each kiddo has their very own ceramic decorative covered dish where they find their favorite candy inside - and it's not usually anything Easter related. A candy so special that they won't find it in their baskets.
8. Easter Egg Hunt
Every year that bunny hides those eggs in the backyard - but he can get a little silly. Some have jelly beans, loose change, and maybe a few bills to get the big kids running. But you might even find some with a cherry tomato, baby carrot, or even a baby pickle - anything goes. There is much giggling watching them open their eggs. When they get even older, they may find other fun things around the house - it really is a fun activity that you can make hilarious.
9. Ham and Pineapple
If that does not smell like Easter, I don't know what does. Every year - and only on Easter - I make the most delicious side dish that you can serve with every meal, or on its own. You can serve this Pineapple Bake hot, warm, or cold. Trust me, you will not have leftovers and it goes perfectly with your Easter ham. You can find this very simple and delicious recipe from Macaroni Kid EATS! here.
10. Breakfast & Buffet
First the kids want to tackle some candy - and there just is no way around that - am I right parents? (You know you sneak some too!) But we do need to feed the fam a few healthy things, so I opt for an easy breakfast and an "open house" buffet. It is prepared mostly the night before so that I can set it all out and relax the rest of the day - because this bunny worked hard! Our buffet is out from brunch through early afternoon (sometimes longer) with an array of ham, deviled eggs, stuffed dates, spring vegetables, party potatoes, a charcuterie board, appetizers, and of course that pineapple bake. It's time for this bunny to put up her paws and enjoy.
Wishing you and yours a wonderful and blessed Easter - and here is to not finding a piece of Easter grass this Christmas.
---
Charlotte Linde is the Co-Managing Editor of Macaroni Kid EATS, publisher of her local editions Macaroni Kid Cedar Rapids and Macaroni Kid Iowa City, and is the Director of Social Media for Macaroni Kid and CertifiKID.