Dreaming of the perfect family vacation for 2024? Saddle up and join us a tour of wide-open spaces, unforgettable sunsets, and a taste of the true Wild West. We've rounded up five of the Dude Ranchers' Association member ranches that promise a blend of tradition, nature, and hospitality ... each with their own distinct personalities.
---
This article is sponsored by the Dude Ranchers' Association.
---
From Wyoming's Lazy L&B Ranch, with its vivid landscapes, to the all-inclusive charm of Western Pleasure Guest Ranch in Idaho, there's a retreat for every family. Colorado's historic Cherokee Park Ranch is nestled in the Rocky Mountains and all that offers, while CM Ranch in Wyoming brings you closer to Shoshone National Forest's beauty. And for those seeking the perfect blend of past and present? Arizona's Rancho de los Caballeros awaits. One of the best parts? These all-inclusive ranches, all members of the Dude Ranchers' Association, include three meals a day! Cowboys rejoice.
Let one of these ranches turn your 2024 vacation into an unforgettable family memory.
---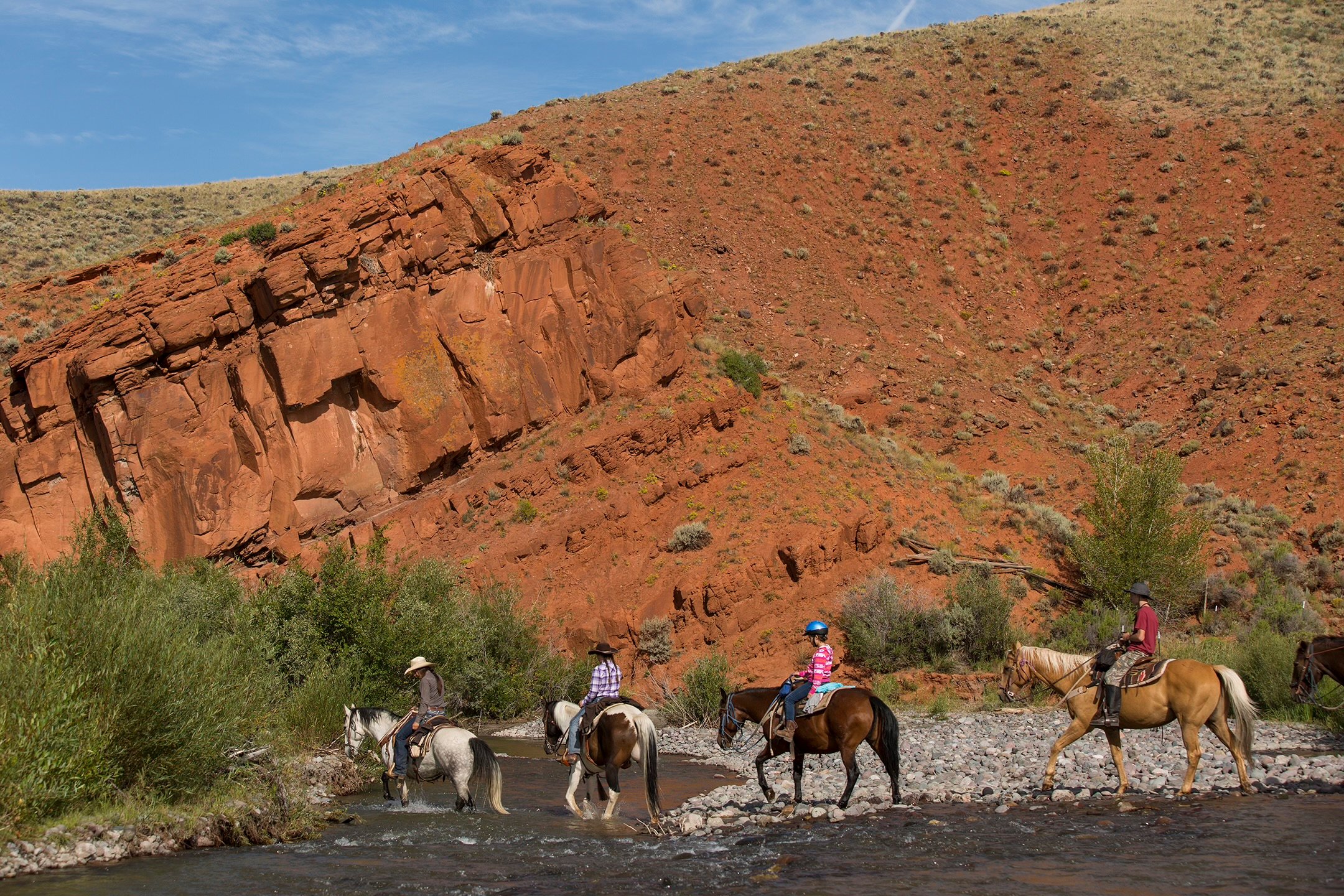 Dive into the Lazy L&B Ranch experience! Nestled amidst 80,000 acres of spectacular landscapes, from lush cottonwood riverbeds to alpine vistas and painted plateaus, this family-run ranch promises unique horseback rides and endless adventures. Families can enjoy a petting zoo, go fishing, or even take part in square dancing and the local rodeo in Dubois!
Craving some downtime? Cozy up in the Lazy L&B Ranch's historical lodge with a book or game, and enjoy homemade meals. And yes, for the modern cowboy, there's Wi-Fi! It's a vacation tailored just for you.
---
These five ranches are members of the Dude Ranchers' Association. If you're looking for a reputable dude ranch to choose for a family vacation, make sure to start at the Dude Ranchers' Association website! This nearly 100-year-old organization still holds true to the same principles it was founded on: Horses, Hats, Hospitality, Heritage, Honesty, and Heart. Those principles are the heart and soul of every Dude Ranchers' Association member ranch.
---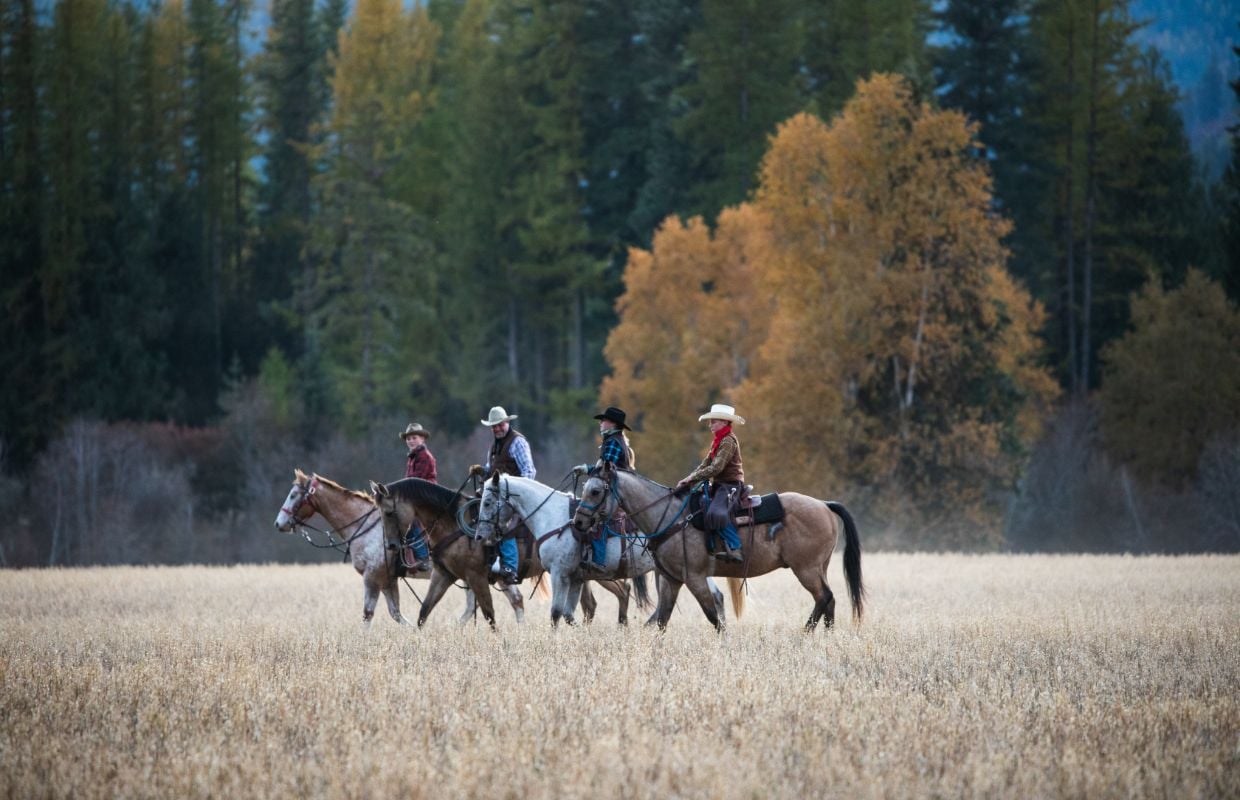 Western Pleasure Guest Ranch is nestled in Idaho's breathtaking wilderness. Enjoy the ranch's grand lodge or find serenity in a secluded log cabin. Saddle up and traverse the historic landscapes of a fifth-generation ranch, encounter native wildlife, and even take a refreshing dip at Grouse Creek Falls.
Plus you'll delight in Chef Kelli's delectable meals, made with local, organic ingredients, including their own ranch-raised beef. Comfort and genuine western hospitality await at Western Pleasure Guest Ranch.
---
Located in the stunning Rocky Mountains of Livermore, Colorado, Cherokee Park Ranch has promised unforgettable family vacations, getaways, reunions, and honeymoons since 1886. The ranch's motto is "Come as a stranger, leave as family" — evident as 86% of visitors return!
Your family can enjoy many activities, such as horseback riding, fishing, skeet shooting, art classes, and even river tubing. Relish in mouthwatering home-cooked meals fit for any cowboy appetite. Stay in Cherokee Park Ranch's historic log lodge suites or choose a cabin where you can unwind on swings, with the tranquil river and native wildlife such as elk, bald eagles and coyotes as your backdrop. Perfection.
---

Nestled beside Shoshone National Forest and not far from Yellowstone National Park, CM Ranch promises tradition and thrills for families, from breakfast horseback rides across vast landscapes to cozy evening square dances. Whether you're a riding novice or pro, there's a horse for everyone. During the day you can ride, fish, hike, swim, picnic, participate in activities, or relax with your book, as you please. Evenings can be spent at a local rodeo, a cookout, or playing softball, horseshoes or volleyball on the lawn.
You'll relish tailor-made meals overlooking the scenic Jakeys Fork Creek and unwind after your day in creek-facing cabins. A blend of seasoned ranchers and spirited students ensures a warm, inclusive atmosphere.
---
Established in 1948 and sprawled across 20,000 acres of the High Sonoran Desert, Wickenburg's Rancho de los Caballeros offers timeless charm, spectacular views and epitomizes Southwest hospitality. With a history rich in tradition, Rancho de los Caballeros blends the allure of the past with modern luxuries. Guests can indulge in golf, trail rides, spa sessions, and dine under the stars. Whether you're in a rustic ranch room or a luxurious Maricopa Suite, every stay is steeped in tradition, nature, and unparalleled personal service. At this ranch, you're not just a guest. You're family.
---
Ready to spend your 2024 family vacation in a western paradise? Get ready for picturesque settings, all-inclusive amenities, horseback rides, and gourmet meals. Find out more and book your 2024 family getaway now ... and let the authentic American West become an unforgettable part of your family traditions and memories.