Virtual via Jurassic Questhttps://www.jurassicquest.com/dinoday
Description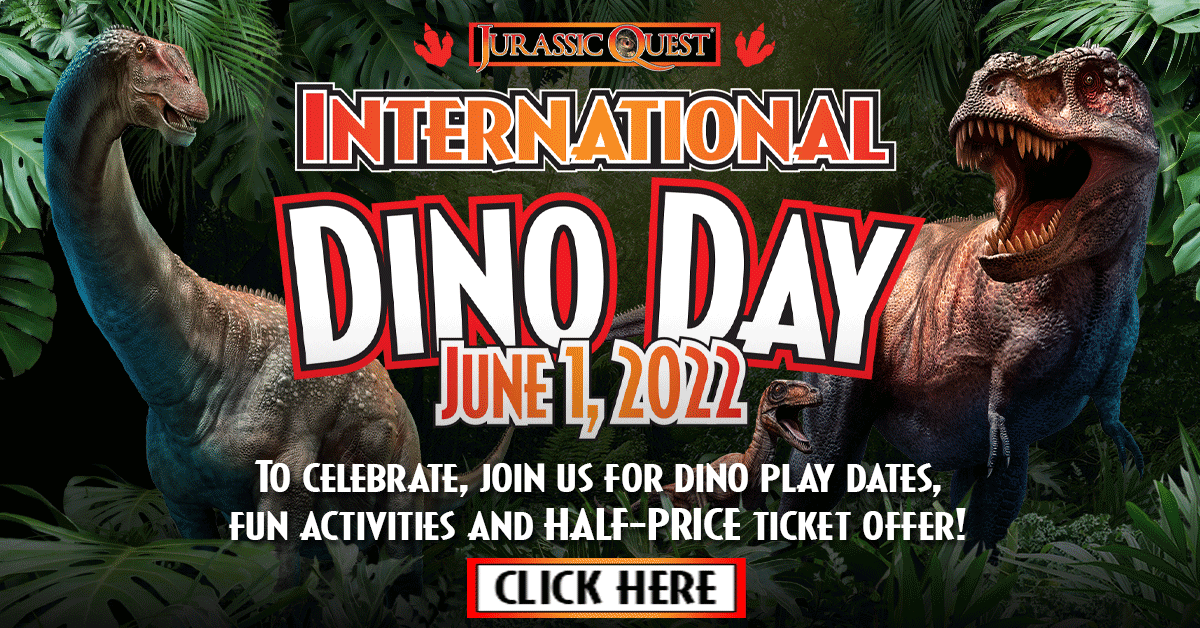 Jurassic Quest, the nation's largest and most realistic dinosaur experience, invites dinosaur fans everywhere to join the second annual Jurassic Quest Great Big Dino Playdate in celebration of International Dinosaur Day on Wed., June 1, 2022.
To make the day even more Jurass-tastic, fans can get 50% off tickets to the in-person touring event using the discount code DINODAY for June 1 purchases only (until midnight ET), for all upcoming Jurassic Quest tour stops on sale.
JUNE 1: Jurassic Quest Great Big Dino Playdate
Celebrate International Dinosaur Day with Jurassic Quest's lovable team of dino trainers, who will host prehistoric-themed virtual play sessions throughout the day. To join, families will need to register for each session they'd like to attend at www.jurassicquest.com/dinoday.
Each session will include about 30 minutes of family-friendly fun, such as dino storytime, show and tell, games and trivia, cute dino baby appearances and more, led by the Jurassic Quest dinosaur trainers: Safari Sarah, Captain Caleb, Prehistoric Nick and Park Ranger Marty.
Jurassic Quest 2022 Great Big Dino Playdate Full Schedule
All ages welcome for any daytime session
9 a.m. ET: Dino Storytime with Safari Sarah
11 a.m. ET: Dino Facts & Faves with Captain Caleb and friends
1 p.m. ET: Dino Show & Tell with Park Ranger Marty (bring your favorite dino to show!)
3 p.m. ET: Dino Bingo with Prehistoric Nick


Participants will receive a commemorative Jurassic Quest International Dinosaur Day digital badge. Jurassic Quest also has free activities for families to celebrate at home, including crafts, coloring and activity sheets: https://www.jurassicquest.com/dinoday
And, fans can rock out to the Jurassic Quest song all year long and see highlights from the national touring event: https://youtu.be/Uj0LUEzyH38
Who
all ages welcome
How
Check the full schedule of events online HERE
More Info