At the risk of being mistaken for older than I really am, I admit that I often wonder why a lot of today's toys are so extra. You know what I'm talking about — disco-like shows of blinding lights and too-loud music, loads of buttons that sometimes make for frustrated kids, and other expensive battery-required tech.
This is why I am a big fan of Green Toys. Green Toys are the kind of toys my sister and I played with back in the day (AKA the 80s). No batteries or instructions required … just classic toys that are ready to play with, straight out of their recycled packaging. Toys like dump trucks that invite kids to get on the ground and play, boats made for splashing while your child becomes captain of the ship, and more. All that is required is imagination for hours of role-playing and pretend fun!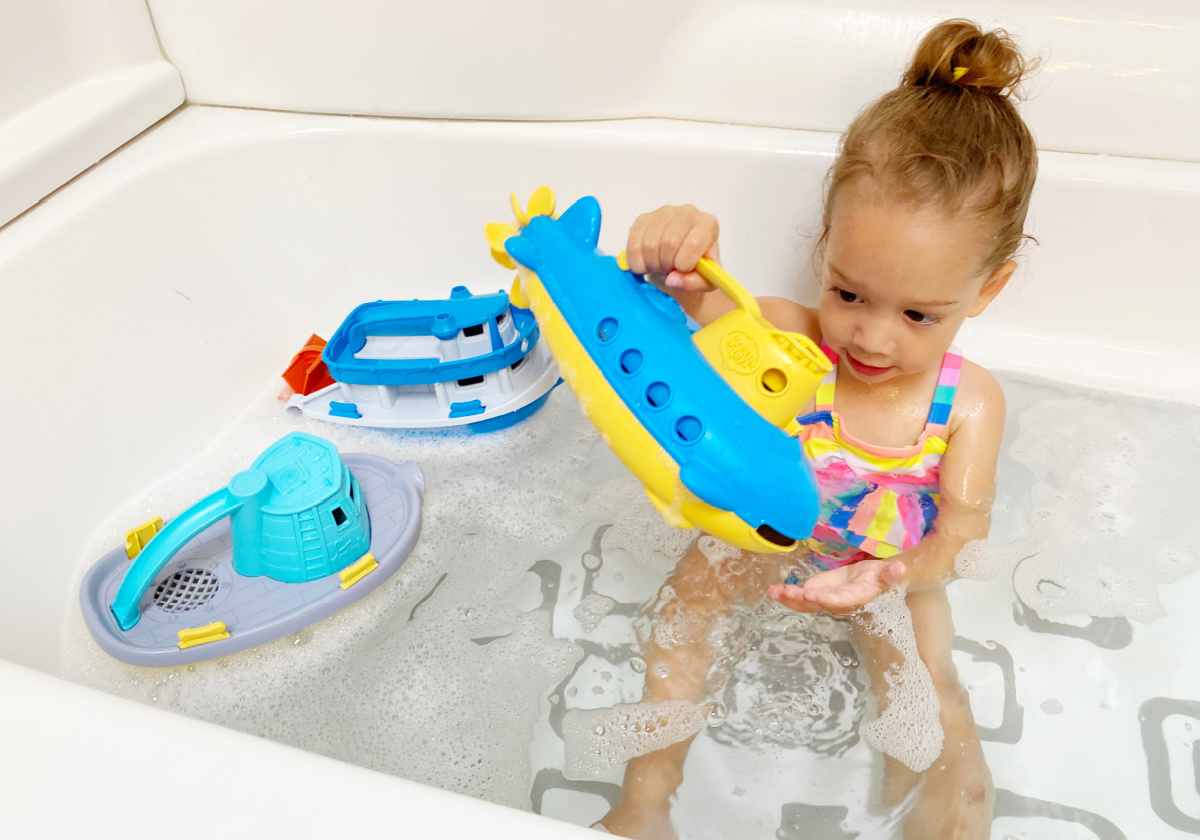 Green Toys are eco-friendly and made right here in the USA with 100% recycled material — mainly milk jugs. What a great way to show kids that recycling common household items like milk jugs, yogurt cups, cardboard, and water bottles give them a chance to come back to life again — sometimes as an awesome new toy!
Green Toys are also free of BPA, phthalates, and PVC, and meet FDA standards for food contact. You also won't find any screws or glue on these high-quality toys, so no need to worry if your child still explores toys with their mouth.
The Green Toys Summer Splash Sale is happening right now! Save 25-50% off, exclusively at www.greentoys.com/splash from July 12th – July 21st (while supplies last, US only). Macaroni KID readers can get FREE SHIPPING with code MACARONI.
Our picks for the Summer Splash Sale include the Bath Boat Triple Play and Mixed Up Truck Set.
The Bath Boat Triple Play (originally $45, sale price $22.50) includes a tugboat, submarine, and paddle boat perfect for outdoor water play or bathtime fun. Use the handles to steer them along the pretend coastline as they float, or use the handle to scoop and pour water. Macaroni KID tip for moms and dads: use them to help rinse suds off your child in the tub!
The Mixed Up Truck Set (originally $49, sale price $34.50) begs to be taken outdoors. Let your child get messy as they scoop, dump, and haul a little dirt or sand with the help of the orange and blue worker dogs. After cleaning up, snuggle in to read about working together with the included Mixed Up Truck Book.
Visit www.greentoys.com/splash to take advantage of the sale now through July 21st! You can also learn more about Green Toys by following them on Instagram, Facebook, and Twitter.
I received complimentary toys from Green Toys for the purpose of this review. All opinions are 100% my own.